Lumba Rakhi Meaning and Its Significance
When a sister ties rakhi around the wrist of her brother on the occasion of Raksha Bandhan, she also ties rakhi around the wrist of her sister-in-law. The rakhi that is tied around the wrist of bhabhi is called lumba rakhi. Lumba in the Marwari language roughly translates as 'bangle.' Marwari or Marwadi is a Rajasthani dialect spoken in the Marwar which is a southwestern region in Rajasthan, a state of northwestern India.
Though, there are some cultures in Gujarat where a sister ties rakhi around the wrists of her brother, sister-in-law, and their children, the tradition of Lumba rakhi finds its origins in Marwari culture. This has been an ancient tradition in Marwari culture which has now become a global rage.
How to Tie Lumba Rakhi?
Lumba rakhi is tied to the bangle of sister-in-law or bhabhi. This rakhi dangles from bhabhi's bangle like a pendant, creating an impression of kalire which is worn by beautiful Punjabi brides. Lumba rakhi is also called bhabhi rakhi.
Lumba rakhi is essentially the celebration of bhabhi's unique place in brother's life as well as in the entire family. It acknowledges the power of divine feminine and honors it with this ceremony of tying lumba rakhi around bhabhi's wrist on the occasion of Raksha Bandhan.
Social-cultural Significance of Lumba Rakhi Part 1
Safety and protection are the essence of the festival of Raksha Bandhan. Tying lumba rakhi to sister-in-law's bangle is the reflection of this essence. It also underlines the predominant aspects of marital life – sharing and caring. When a sister ties rakhi to brother, there is an explicit exchange of safety, protection, and well-being between them.
The same vows of safety, protection, and well-being are shared with bhabhi too, emphasising the fact that bhabhi too is an equal partner in the bond between the brothers and sisters. She too shares both responsibilities and rights of the bond of this Raksha sutra or rakhi.
The ceremony of tying lumba rakhi around bhabhi's wrist also signifies sister's wish to protect her bhabhi as well as the marriage of her bhaiya-bhabhi. Lumba rakhi is also considered to be a symbol that brings protective and long lasting marital bliss to bhaiya and bhabhi.
Social-cultural Significance of Lumba Rakhi Part 2
Another interesting socio-cultural aspect of this lumba rakhi tradition is that the older women, especially, father's sister, ties rakhi to younger girl members of the family. This tying of lumba rakhi by an older woman to a younger woman of the family serves as a promise of care, protection, and well-being to that younger girl. An old woman promises the younger one to be there for her exactly like her father through the thick and thin of her life.
This aspect of this tradition makes women equal partners in the social fabric of the culture. It is the highest form of women empowerment that any culture can ever dream of. A woman is entitled to both – giving and receiving care, protection, and well-being.
Spiritual Significance of Lumba Rakhi
The tradition of lumba rakhi is undoubtedly a celebration of divine feminine. In a world, where toxic masculinity and violent patriarchy call the shots, such tradition and practice bring much faith and optimism in our lives. Most amazing thing about the tradition of lumba rakhi is, it does not exclude the presence of masculinity, but rather embraces it. It also gives space to all kinds of women – older, younger, married, and single. That makes this an all-encompassing tradition that ultimately advocates universal sisterhood, compassion, and Oneness. At times such as these, when the world is in dire need of care, protection, sense of belonging, connectedness, and well-being, tradition of tying lumba rakhi around the wrist of the sister-in-law does have profound spiritual significance. Do send your bhabhi lumba rakhi this Raksha Bandhan. It would surely bring joy and happiness in the lives of your brother and sister-in-law.
Lumba Rakhi Designs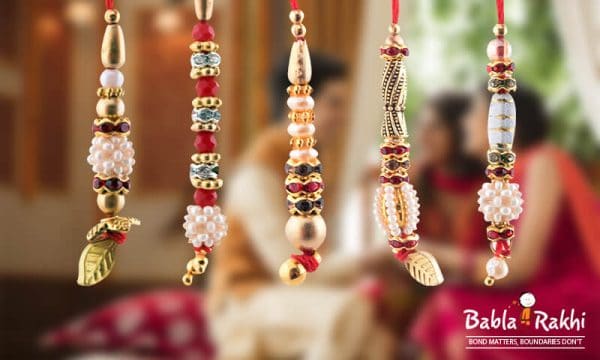 Lumba rakhi is the rakhi for ladies. Hence, it naturally has the feel of feminine attributes like daintiness, colorfulness, and warmth. Lumba rakhi designs are available in various colours, sizes, and attractive designs. Generally, these rakhis are made of danglers, mirror work, and sequins. They also have intricate embroidery, and exquisite shades of red, green, and blue. Compared to other rakhis, these rakhis are more slender, delicate, and sensual.
It is this quality of the rakhi that makes them suitable for any outfit. Sister-in-laws and sisters can flaunt lumba rakhi with saree or salwar-kameez or skirts and even western ethnic dresses. However, since they are bright in colours, and vibrant, they undoubtedly go well with traditional Indian attire.
Fun, Frolic, and Food
The ceremony of tying lumba rakhi is all about fun, frolic, and food. When all the sisters, sister-in-laws of the family get together, the mood is that of fun and joy. It is also a time to savour traditional Marwari cuisines like dal bati churma; ker sangri; gatte ki subzi; papad ki subzi; bajra ki roti; with lasun chutney; onion kachori; panchkuta; mirchi bada; kadhi; methi bajra puri; kalmi vada; gatte ka pulao, also known as ram pulao; shahi gatte, also known as govind gate – a richer version of the popular dish; masala gatte. The non-vegetarian delicacies include mohan maas and laal maas.
And, can you imagine any celebration in the world without culture specific sweets? We cannot. During the ceremony of tying lumba rakhi, all the family members enjoy Marwari sweets like ghevar; moong ki daal ka halwa; malpua; churma ladoo; balushahi; badam ka halwa; gujia; kalakand; mawa kachori; mohan thaal also known as dil khushal or besan ki barfi.
Wait, it is not over yet. Any feast invariably includes accompaniments. Marwari folks love to have aam ki launji; boondi raita; chutneys like kachri, Imli, lehsun and tamatar; bajra ki raab; masala-chhach; jaljeera during their joyous lumba rakhi celebration.
The entire idea behind this celebration is to get together, cook together and eat together as the culture that cooks together and eats together stays together. However, in the era of social distancing, when it is not possible to get together, you can always have virtual celebration of Raksha Bandhan. Read our post: "How to Celebrate Raksha Bandhan Online?"
Lumba Rakhis at Babla Rakhi Portal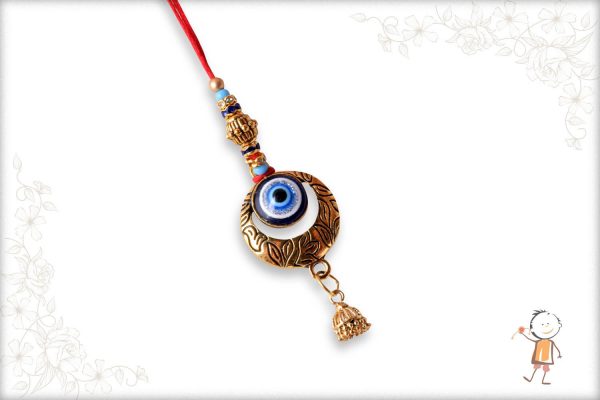 Babla Rakhi has over 1000 plus variety of rakhis including so many lumba rakhis. We source our materials from our trusted partners who have been working with us for more than over four decades. Our expert designers craft these rakhis keeping in mind its rich cultural heritage and spiritual significance. Our exquisite lumba rakhis come in all bright colours like red, blue, green, purple etc. They have rich embroidery, sequin, and mirror work that give your sister-in-law profound feeling of divine femininity. Just explore our rich collection of lumba rakhis and make Raksha Bandhan 2021 extra special for your bhaiya and bhabhi.
Stay tuned here as we bring you another special post: "How Rajasthani Culture Celebrates Raksha Bandhan?"
Do spread the word and share our portal to send lumba rakhi online India with other sisters across the world. Let them too have the best online rakhi delivery experience which brings smile on bhaiya bhabhi's face.