"જ્યાં જ્યાં વસે એક ગુજરાતી, ત્યાં ત્યાં સદાકાળ ગુજરાત!"
This is a famous Gujarati line from a Gujarati poem titled: "સદાકાળ ગુજરાત", written by the eminent Parsi poet Ardeshar Faramji Khabardar.
It means wherever a Gujarati lives, there is Gujarat forever. Khabardar may have written it around the 40s, and since then, it has become an identity of Gujarati culture.
It is said that when any line by the poet becomes so famous that the name of the poet is totally forgotten, then the poet has become immortal in a true sense. So, the poet of this line — Ardeshar Faramji Khabardar has truly become immortal.
It is an open secret that Gujarati people have contributed immensely in making the festival of Raksha Bandhan truly global. It would be then interesting to explore the festivities of Raksha Bandhan in their own home state — Gujarat. Let us get into various dimensions of these festivities on the occasion of Raksha Bandhan in Gujarat.
Various names of Raksha Bandhan in Gujarat
In Gujarat, Raksha Bandhan is also called:
Let us have a brief look at each of these.
Shravana Purnima
In Gujarati culture, the festival of Raksha Bandhan is also known as Shravana Purnima. Shravana is the name of the Hindu month and Purnima means full moon. Apart from being a festival that celebrates the bond between brothers and sisters, Shravana Purnima is also important to the community of Brahmins in Gujarat.
On this day, Brahmins perform ritual of changing their Yagyopaveet or Janoiwith the chanting of the mantras. Janoi is also called Janai or janeau or poita in different regions. Janoi is a sacred thread which is received by a boy during the Upanayana samskara or rites of passage in the Hindu tradition.
Usually, this ceremony needs to be held before the age of 16. But, different regions and traditions do this in their own unique ways. It is expected that the boy wears this thread for the rest of the life. This thread needs to be changed every year. And, this ritual to change it is performed on the full moon day of the month of Shravana in the Hindu calendar as it is considered the most auspicious day of the year.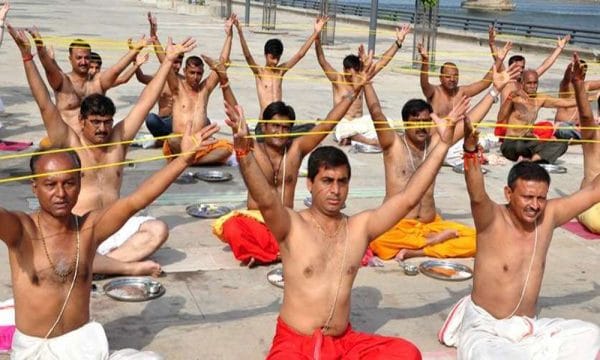 Image source :- www.youngisthan.in
This thin thread has three cotton strands. Different cultures interpret these threads as per their faith. But, the most common interpretation is that the each strand represents the trinity of goddesses – Parvati, Lakshmi, and Sarswati. It is believed that this sacred thread will protect the wearer from all the evil forces of the world.
Nariyal Purnima
Raksha Bandhan is also celebrated as Nariyal Purnima in the coastal regions of Gujarat, Maharashtra, and Goa. The word Nariyal means coconut and the word Purnima is for full moon. The festival holds great importance for the fishermen community as it marks the beginning of a new year for them. It is also the end of the rains and beginning of the fishing and the water-trade.
The fishermen worship sea-god Lord Varuna. They offer prayers to Varuna, who is believed to protect them from all kinds of possible misfortune in their trade. They worship their boats and offer Nariyal or the coconut to the Lord. The coconut offering on this day is considered the most auspicious and also a symbol of creativity. They pray to the Lord:
May the strength of the wind and its direction favour our fishing. May our sail in the sea go smoothly for the whole year.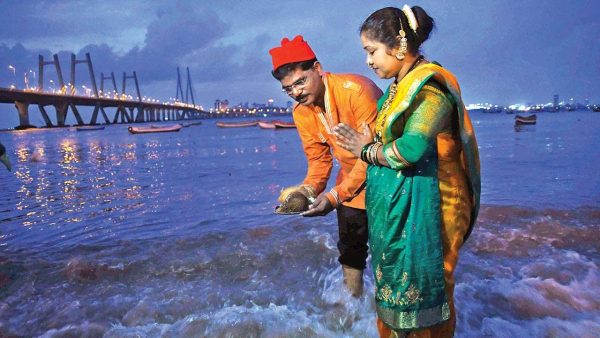 Image source :- www.dnaindia.com
The preparatory celebration of Nariyal Purnima begins with the fishermen repairing their old fishing nets; painting their old boats; buying new boats; or making new fishing nets, and planting trees to show their gratitude towards nature. They decorate their boats with festive buntings and colourful flower garlands.
Having performed all these rituals, fishermen undertake a short trip as a good omen for the rest of the year. They sail in their beautifully decorated ships and return to the shore. The community then spends the rest of the day dancing; singing; eating, and frolicking together.
Balev
The word Balev is a conjunction of two Sanskrit words: Bali and Eva. Bali means sacrifice and eva means in this way. Thus, sacrifice made in this way is Balev. So, who made the sacrifice, why, and when? The answers to these questions are in the mythological story about the King Bali and the Goddess Lakshmi. The mythological story in nutshell:
When the king of Demon – Raja Bali offered his head to Lord Vishnu in his Vaman Avtaar, Lord Vishnu promised him to protect him from all the dangers untill the next aeon, when he will be crowned Indra. To keep his promise, Lord Vishnu disguised himself as the doorman at the doorsteps of the King Bali's kingdom in the netherworld or Paatal lok.
Goddess Lakshmi could not bear the absence of Lord Vishnu in Vaikuntha. She missed him badly. So, she came to the Paatal lok in the guise of a Brahmin woman. She sought refuge in the King Bali's kingdom on the pretext that her husband had gone for long work, and hence, she is in need of the shelter.
King Bali welcomed her warmly, protected her like his own sister, and in no time, the entire Bali household started experiencing abundance and happiness.
Finally, on the day of Shravana Purnima, Goddess Lakshmi tied a thread of colored cotton on Bali's wrist and prayed for his protection and happiness. Bali was moved by this gesture and suggested her to ask anything in return.
Immediately, Goddess Lakshmi looked toward the doorman and requested Bali to let her husband join her. As the King Bali got confused, both the God and the Goddess revealed their true identities to Bali.
Though Bali graciously allowed God Vishnu to go back to Vaikunth with the Goddess, it was important for Lord Vishnu to keep his promise to protect the King Bali.
It was then decided that after Lord Vishnu's stay of four months during the Chaturmas, Lord Shiva, and Lord Brahma would stay at Bali's doorstep, each for four months. Lord Vishnu would come for about four months during the monsoon season every year to keep his promise to protect the King Bali.
In order to honour King Bali's devotion and sacrifice to the God and the Goddess, this festival came to be known as Baleva – Bali Eva – the sacrifice made in this way.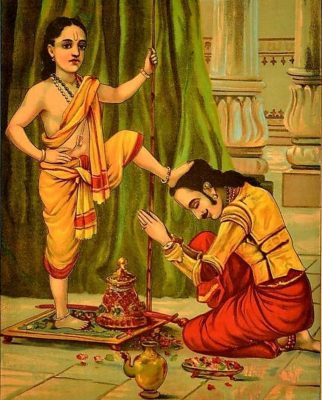 Image source :- https://medium.com/@surashiva
On this day, the priests tie a nada chhadi – sacred thread or Raksha to the devotees. They chant a verse that is written in praise of King Bali's supreme sacrifice and devotion to the Lord in Bhavishyottar Puran 137/20:
येन बद्धो बली राजा दानवेन्द्रो महाबलः। तेन त्वाम् अभिबध्नामि रक्षे मा चल मा चल॥
It means:
I am tying a Raksha to you, similar to the one tied to Bali the powerful king of demons. Oh Rakshaa, be firm, do not waver.
Hence, from the religious point of view, the spirit of the festival of Balev is that of sacrifice and devotion to the Lord. But, essentially, at a deeper level, it celebrates the act of letting go and total surrender to the Supreme Self. And that, in turn, becomes our highest raksha or protection against all the evil energies of the Universe.
Raksha Bandhan celebration in Gujarati culture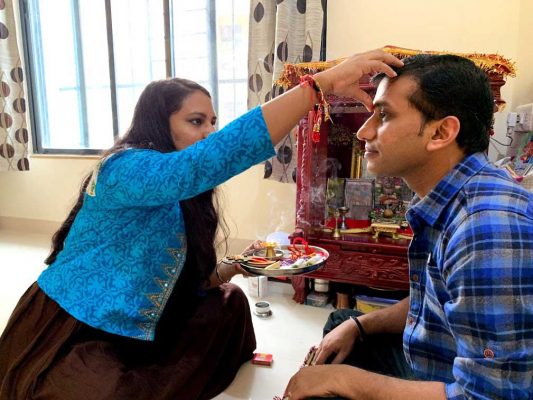 It is a festival of bonding and belonging. Brothers and sisters gear up for the actual ceremony in their finest outfits and jewellery. Sister prepares pooja thali that has kumkum, chawal, rakhi, and aarati.
She applies kumkum and chawal, which is called "chokha" in Gujarati, on the forehead of her brother. She ties rakhi around the right wrist of her brother.
She performs aarati of her brother. She prays and wishes for his safety and well-being. Siblings feed each other fresh sweets like kesar penda; various types of barafis; kaju katali; badam pista roll; soan papadi; mohanthal; dudh no halvo; besan na laddu, which is called magaj in the Gujarati language and many more sweets.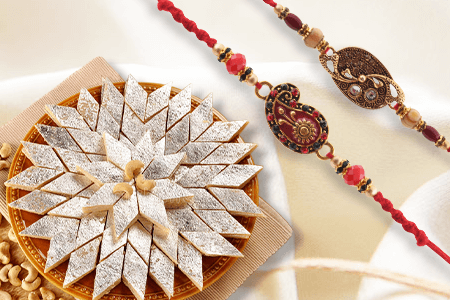 In some Gujarati communities, sister also ties
rakhi to sister-in-law
, nephew and niece. The entire atmosphere during the ceremony is powerful enough to melt even the stony hearts.
Fun, food, and songs
Gujarati people have the knack to find fun in everything. The festival of Raksha Bandhan is no exception. Siblings and their families get together. They enjoy Raksha Bandhan special food like vedhmi, also called puran poli, bhinda nu shaak, bataka nu rasavalu shak, batka ni suki bhaji, kadhi, mag ni daal, Gujarati daal, vaal, kathol, shrikhand, puri etc.
Gujarati culture is popular for its lip-smacking farsaan like idada, live dhokla, sandwich dhokla, vati daal na khaman, naylon khaman, tam-tam khaman, khandavi, patra, muthiya, bhajiya, methi na gota, daalwada, cutlets, navtaad na samosa, etc. They also experiment with these foods in such a way that local food becomes global.
Raksha Bandhan special Gujarati sweets include churma na laadu, shrikhand, shiro, laapsi, gulab jamnun, kala jamun, mattho, cream salad, fruit salad, basundi, and many others. At times, siblings also prefer to go out and take lunch or dinner together.
All the major cities of Gujarat are the hubs of delicious food. They offer many cuisines like North Indian, South Indian, Chinese, Italian, Thai, Mexican, Continental and many more. However, on the festival of Raksha Bandhan, the hot choice remains that of Gujarati thali or Gujarati cuisine which sometimes becomes a fusion cuisine too.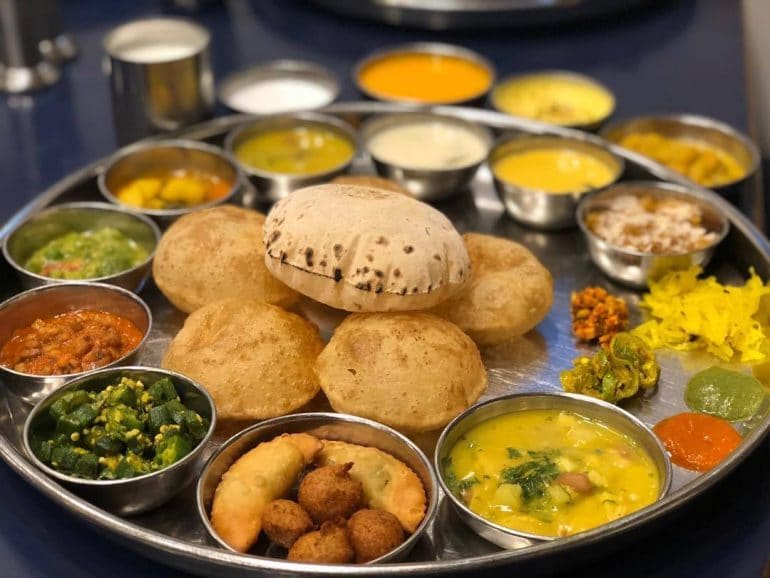 Image source:- curlytales.com
When we talk of Gujarati culture with reference to Gujarati music, the first thing that comes to mind is Garba. However, there is more to Gujarati culture and the music than Garba. Siblings enjoy Raksha Bandhan special songs that provide healthy nourishment to their minds, hearts, and souls for the whole year.
Celebration in the air
Yes, Gujarati people are synonyms with fun and frolic. You will feel the celebration in the air even before the commencement of the actual festival. All the shops in major cities and the villages gear up to welcome Raksha Bandhan. The streets are crowded with roadside vendors who sell beautiful rakhis.
The big players too play it like a pro and decorate their shops with exquisite rakhis with impressive packaging. Sisters and brothers are out there to buy the best for each other.
Sweet shops are the hardest to resist. The fragrance of fresh sweets does make you buy more than you need! It's the magic of these delicious sweets and the bond that it celebrates.
Nothing in the world feels separate. Everything and everyone connects. And, that sense of connection makes every heart celebrate this bond of protection called Raksha Bandhan with passion and enthusiasm.
Raksha Bandhan celebration by NRI Gujarati sisters
If to buy the costliest rakhis and dry fruits is the forte of Punjabi sisters, to be consistent in sending rakhis through Babla Rakhi is the forte of Gujarati NRI sisters.
Yes. We are eternally grateful to all our NRI Gujarati sisters who have remained our customers since their very first order with us. The fact that Babla Rakhi is based in Ahmedabad; Gujarat, is of greatest advantage to our NRI Gujarati sisters.
Babla Rakhi is owned by Gujaratis. Our inherent Gujarati sensibility and sensitivity naturally help us understand the sentiments of NRI Gujarati sisters better when they insist to send the best of the sweets to their brothers.
And this understanding is quite mutual as when we say that we would send sweets from Kandoi Bhogilal Mulchand, they simply understand what we are talking about. All the doubts and apprehensions just evaporate within the fraction of a second. Their insistence too stops immediately as every Gujarati knows the brand that Kandoi Bhogilal Mulchand is.
Also, we are the only professional online rakhi vendor that is based in Ahmedabad, Gujarat in the country. Therefore, our NRI Gujarati sisters' orders with us get delivered faster in comparison to the orders that they place with other online rakhi portals which are either based in Jaipur or any other state except Gujarat.
It goes without saying that our sweets too would be fresher in comparison to other vendors who operate from outside the state of Gujarat.
This faster and fresher online rakhi delivery in Gujarat within 2-3 days is an advantage to our NRI Gujarati sisters as we would be at their brothers' doorsteps faster and fresher than anyone can ever be!
Send rakhi to Gujarat via Babla Rakhi
Based in Ahmedabad, Gujarat, Babla Rakhi offers over 1000 plus rakhis for you to explore and buy. Do send rakhi to Gujarat via Babla Rakhi faster, fresher, and safer.
Our online rakhi delivery service is available in almost all the cities and villages of Gujarat. The major cities include Ahmedabad, Surat, Vadodara, Rajkot, Bhavnagar, Jamnagar, Junagadh, Anand, Kheda, Navsari, Valsad, Morbi, Gandhidham, Nadiad, Surendranagar, Bharuch, Porbandar, and many more.
Do spread the word and share our online rakhi portal with other sisters across the world. Let them too have the best online rakhi delivery experience that brings smile on brother's face.
Frequently Asked Questions about Rakhi Celebration in Gujarati Culture
What are the other names of Raksha Bandhan in Gujarat?
Raksha Bandhan is also called Shravana Purnima, Nariyal Purnima, and Balev in Gujarat. For more information on this, read our section: Various names of Raksha Bandhan in Gujarat.
Why Raksha Bandhan is also called Balev in Gujarat?
The word Balev finds its origins in the mythological story about the netherworld King Bali and the Goddess Lakshmi. For more information on this, read our section: Balev.
What is the significance of Nariyal Purnima?
Nariyal Purnima is the end of the monsoon season and the beginning of a new season for fishermen community. For more information on this, read our section: Nariyal Purnima.
What are the lip-smacking Raksha Bandhan special Gujarati delicacies?
Khaman, dhokla, patra, bhajiya, vedhmi, kadhi, bhinda nu shaak, basundi, cream salad are just a few to name. For more information on this, read our section: Fun, food, and songs.
Share
Find this blog interesting? Share it with your family, and friends.
You can also share it with children to let them have a learning-with-fun experience.
Online rakhi order support
If you want to send rakhi to your brother online, and you need some help to place an online order, we are happy to help you.
WhatsApp us on: +91-8320033403.